The Opendoor Opportunity 🏡
A look at Chamath's big bet
👋🏽 Welcome to Witty Wealth. We are a community that helps tech stock investors understand what's going on.
If you're enjoying this but you're not subscribed, sign up and join 2204 friends who have their wits 👇🏽
---
Daydreaming.
If you're like me, part of why we pay attention to tech is because we fantasize for a better future. 
This week, a bet on the future was unveiled by Witty favorite Chamath Palihapitiya. His latest publicly listed, blank check fund, IPOB, is merging with the tech real estate company, Opendoor. The deal values the combined co at $6.3B.
After I almost worked at Opendoor in 2017, I'm here to serve our curious minds and paint our next mental escape. Specifically what Opendoor is, why Chamath is so bullish, and why I'm investing too.
---
TL;DR - Opendoor is a way to buy or sell your home from your phone. Their secret is the ability to price homes accurately. They can 10x by doing what they do today. Zillow looms but that threat is overblown.
---
Opendoor context
About
Founded in 2014, Opendoor is building a 'one stop shop' for home ownership. Buy, sell, or trade your home quickly on your device, without having to interact with another human face to face. Think hailing an Uber or ordering from Amazon. Just much bigger. 
Today, Opendoor offers to buy your home at a fair price. This is directly addressing the American dream!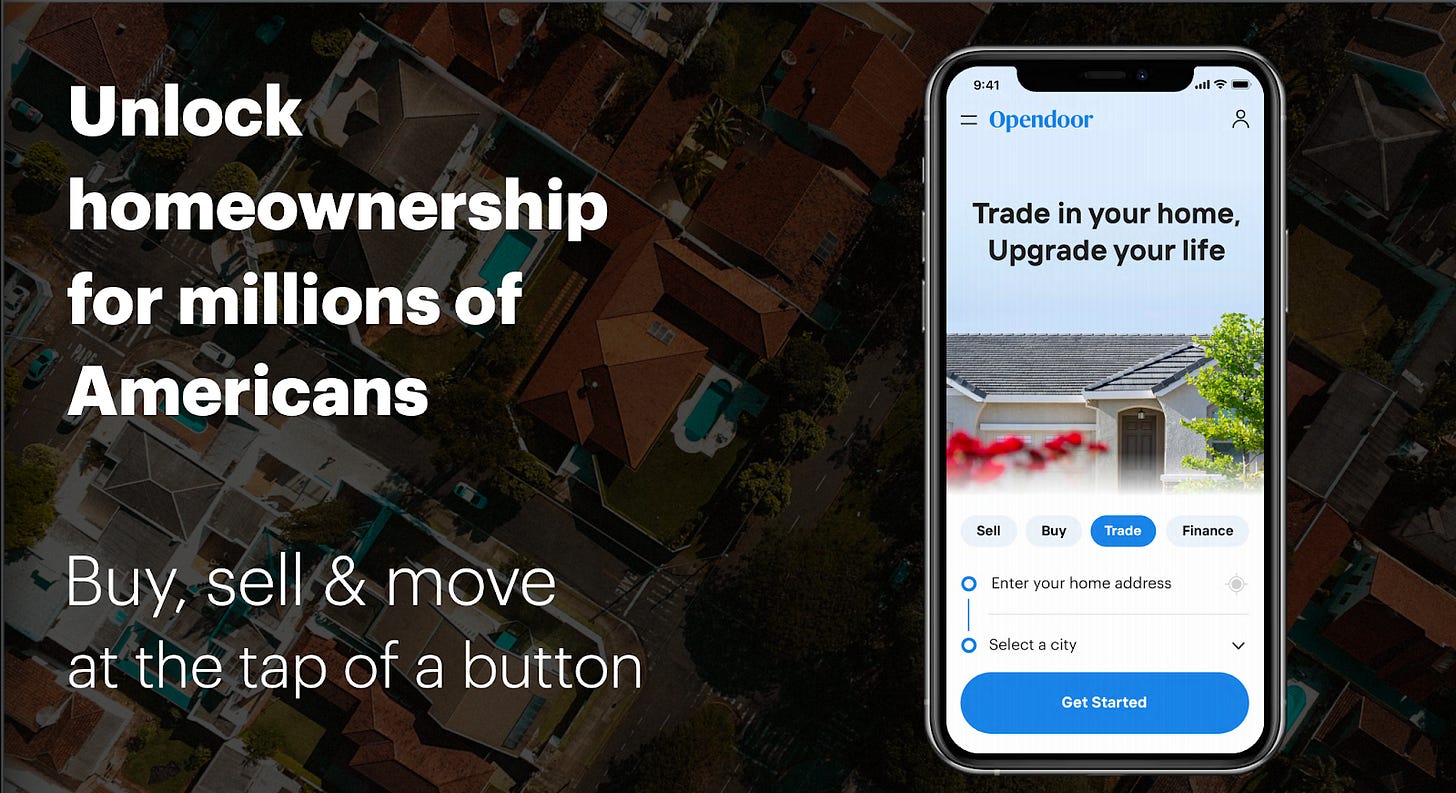 Whenever someone I know sells their house through an agent, their experience is the opposite of what they wish. In fact, check out this infographic below on the traditional home selling process. Internalizing this surfaces one feeling: pain.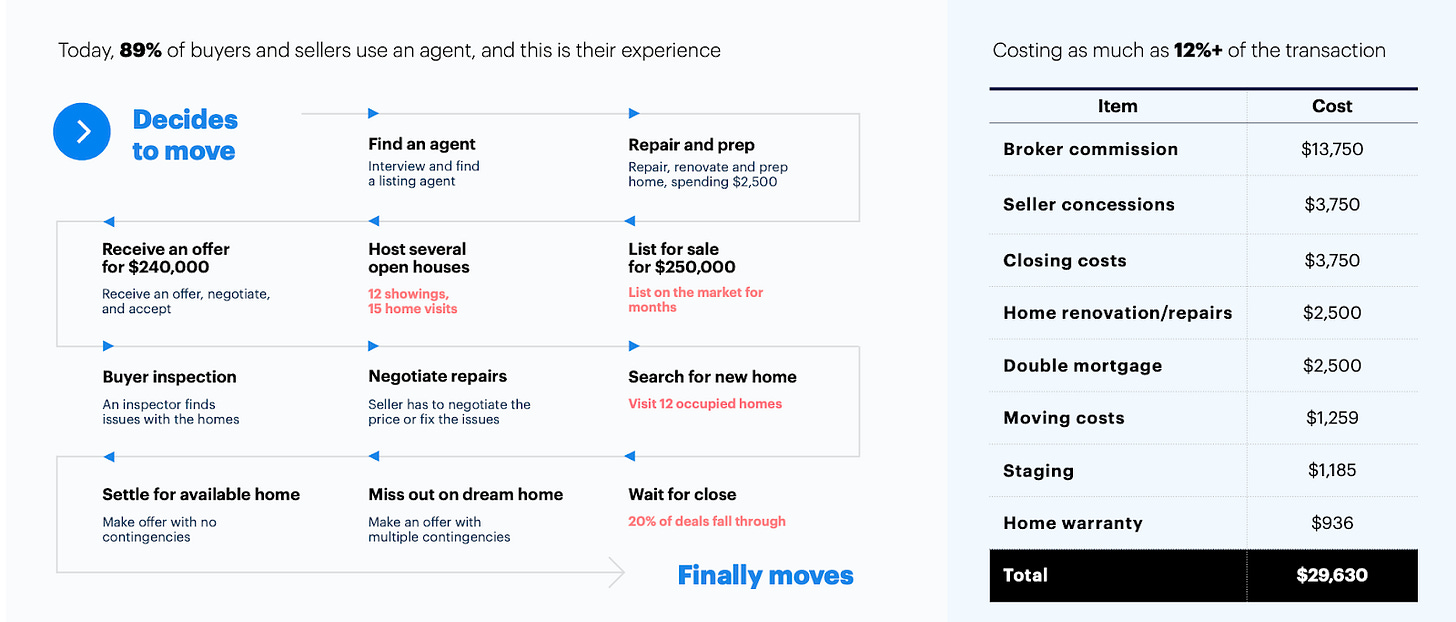 How it works
So how does Opendoor's 'tap of the button' experience work? For the seller, it goes like this:
Go to Opendoor and briefly enter their home details

An inspector comes to see any repairs needed and confirm pictures

Soon after, they get an all cash, fair market value offer to buy their home
Afterwards, Opendoor does any repairs and resells the home. The homebuyer doesn't have to worry about any of that.
At the end of the day, Opendoor provides the two things a home seller cares about: getting a good price and doing it with minimal hassle. No more being disappointed in your realtor.
Opendoor was able to do this because they built everything by thinking for themselves. Every step of the transaction is either automated or has software to support it. No need to adhere to traditional norms, we're building a real estate machine. 
Secret sauce
The secret that makes this all possible is Opendoor's ability to price homes accurately. They need to balance:
giving a fair offer to customers, while 

not overpaying to where they can't make any money
Homeowners won't accept the offer unless it's good enough. Opendoor needs to resell the home at a similar price to breakeven.
It's a technological tightrope, at scale.
Fortunately, Opendoor and their best in class data science team have figured it out. They algorithmically price homes using 145 unique features. In fact, over 60% of offers they give out don't touch a human! That number will continue to improve over time with more data.
Money plan
Given this tightrope, Opendoor is bound on how much profit they make on flipping the home alone. They take a 5% commission fee (like an agent), and make around 4% on an individual house today.
How can they make more money? An extra opportunity lies in handling the whole host of services that need to be done before a buyer can live in their home. This includes ownership things like changing the name on the deed and getting a loan, to physical things like remodeling and moving in.
Customers are buying into the convenience of using Opendoor for additional services. 83% (!) of customers used Opendoor for their first offered additional service - title and escrow. This business is attractive. Customers are willing to pay for convenience.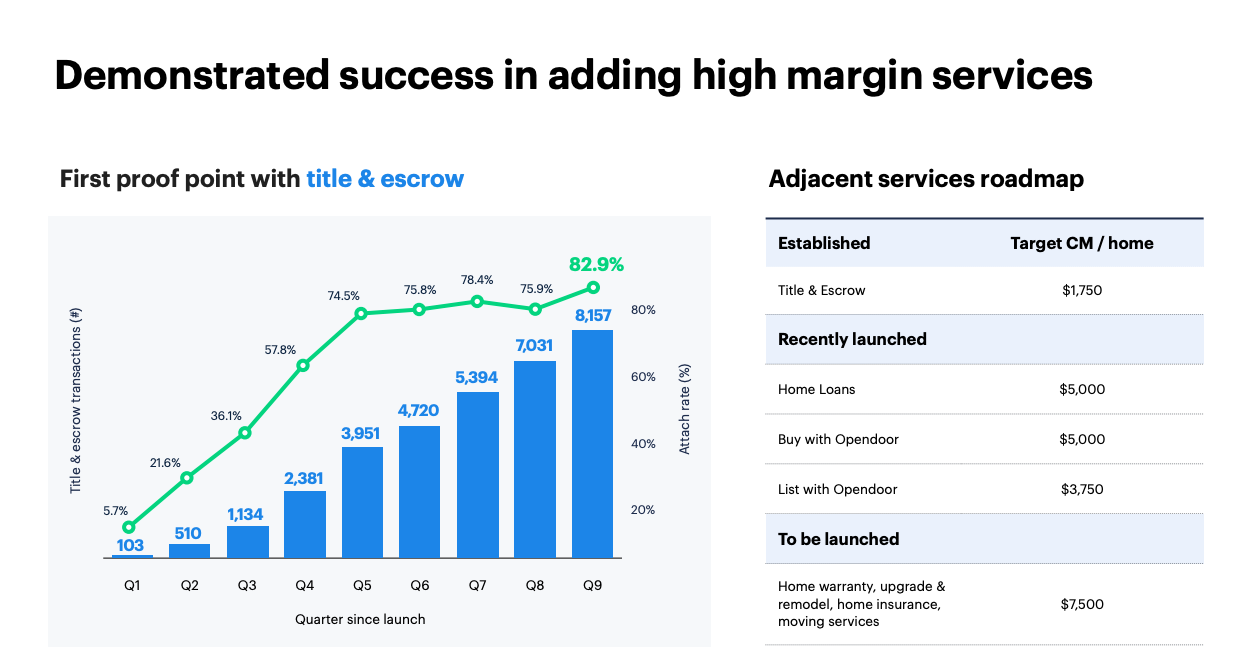 Results
So far, customers are loving Opendoor's futuristic experience. 70% of users strongly recommend Opendoor to a friend! To understand how good that is, for comparison, 68% of Netflix users strongly recommend the streaming service to a friend. 
It's playing out in both the top and bottom line too: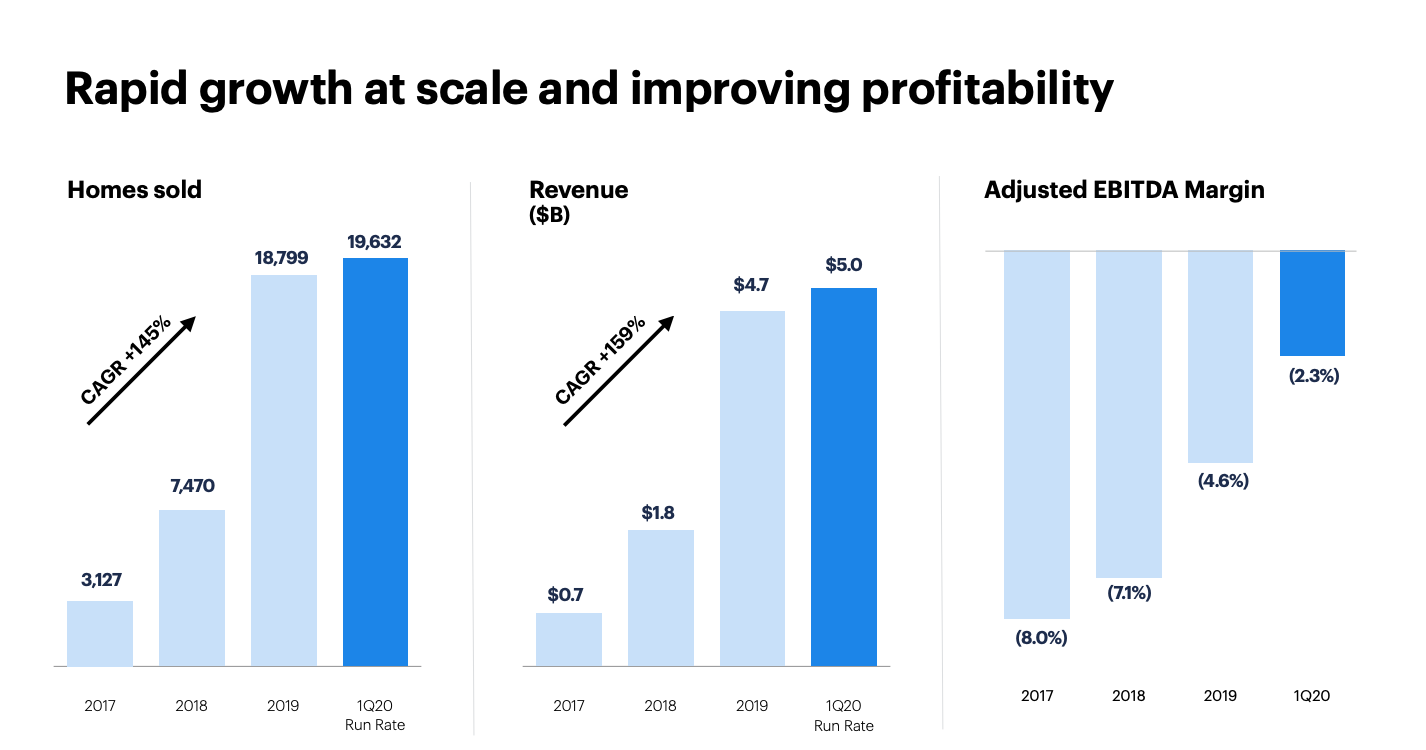 Enter Chamath
If you've heard of Chamath before, you know he's one of the most respected and persuasive technology investors out there. It's worth learning, why is he so bullish about Opendoor? 
I found he laid it out most eloquently in last week's little discussed Opendoor investor conference call.
Here are 3 of his clearest reasons why Opendoor can '10x in 10 years.'
Massive Market
When you want your money to 10x, you begin to focus on big ideas only. In the call, Chamath mentions the biggest idea is consumption - buying and selling things online.
Today, pretty much anything and everything is sold online - except the most expensive purchase we'll ever make: our homes. 
Opendoor is playing in a massive $1.6T market that is up for grabs.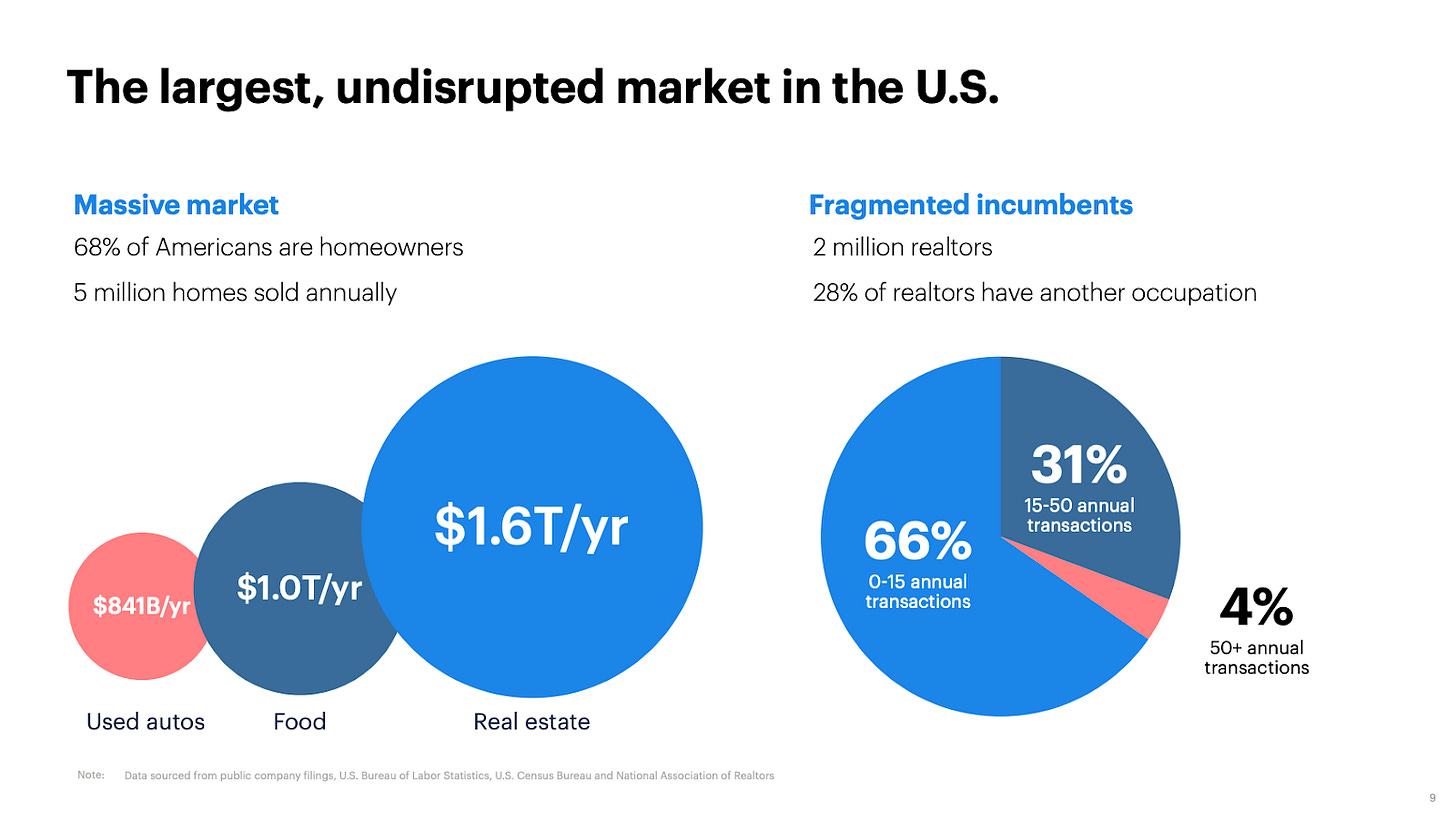 Trends
On the call, Chamath pitched there are 'tailwinds' that are growing this market, and in turn, limit the downside of his investment. He believes that more than ever, Americans will be on the move.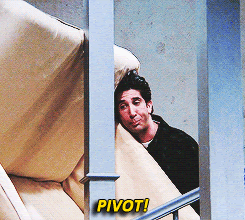 Here's why:
Costs are rising in already high cost of living areas (e.g. New York, New Jersey, California). This is because 1) home prices are rising due to a lack of new homes being built and 2) these areas are raising taxes to survive. The federal government has eliminated state and local tax (SALT) deductions in 2018

People want more space! Working from home has accelerated with COVID

75M digitally native millennials are entering the housing market

It's a great time to get a loan to buy a home. The Federal Reserve expects to keep interest rates at near zero through 2023.
Turning the crank
Finally, there's a straightforward case that Opendoor just needs to turn the crank in order to 10x. They don't need to create anything unexpected. Just enter new markets and run existing playbooks.
Today they are at ~$5B in revenue, with operations in 21 markets and 2% market share. To 10x to ~$50B in revenue, Opendoor claims they can repeat the existing playbook into 100 total markets and get up to 4% market share.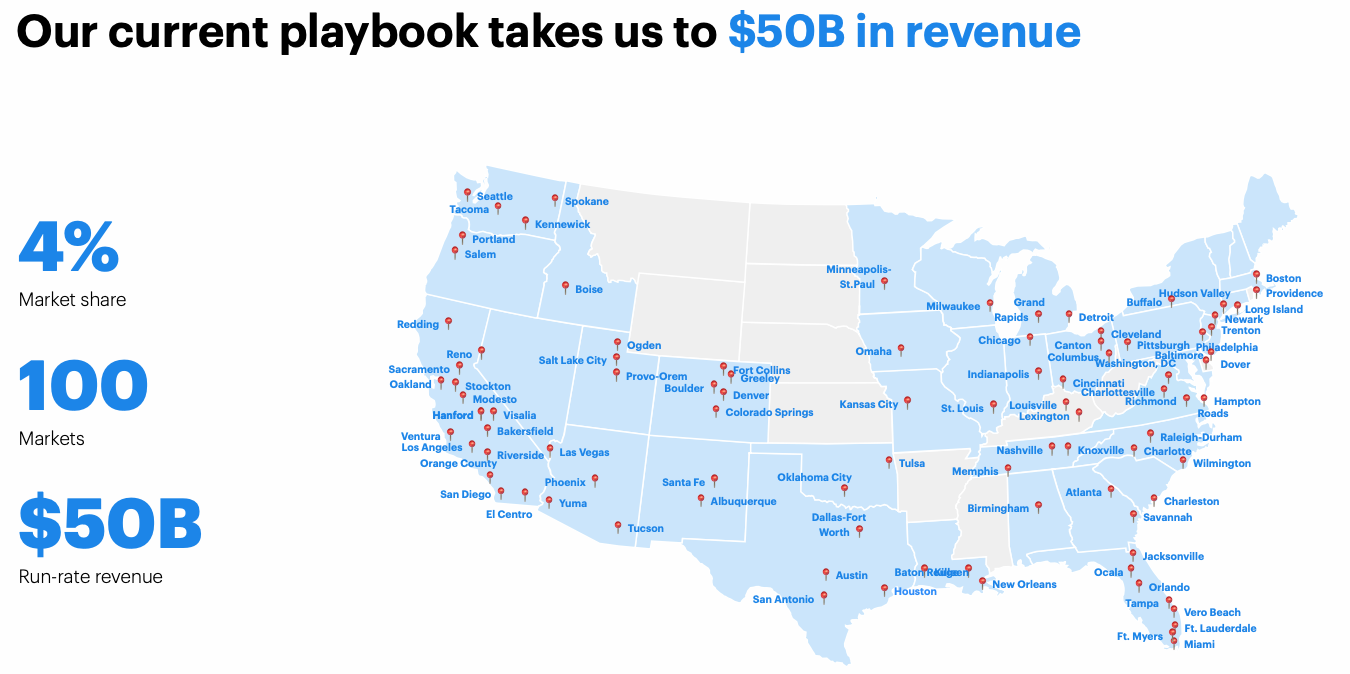 They should be able to increase their market share as 1) the above trends catch on and 2) their model fine tunes with more data.
Additional considerations
Outside of Chamath's eloquent pitch, here's a couple other things I'm considering.
Zillow looming
If Opendoor doesn't take this big opportunity, who could? The running meme is Zillow.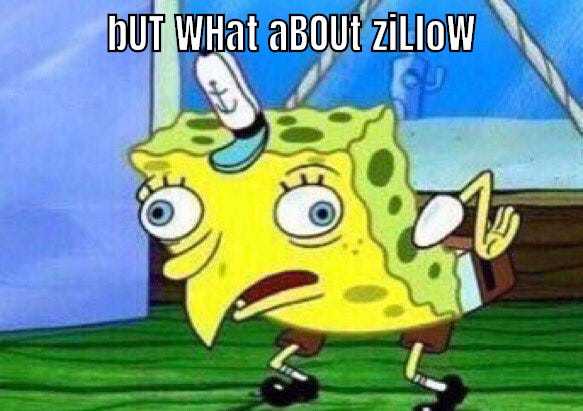 Naturally, that's a great first guess. Zillow is a household name with over 2M daily active users and 110M homes to view on its site! The main claim is Zillow will win as they control our attention. 
But in fact it looks like the other way round. In 2019, Zillow changed their strategy to go from marketing and discovery to a buying and selling model like Opendoor. Zillow's CEO even claimed Opendoor is an 'existential threat!'
After digging deeper, I agree with Zillow's foreshadowing - Opendoor will win out in this space long term. Here's a summary why:
If you are going to buy or sell a house, you shop around to find the best option, not just stay at one site

Getting to a profitable business in this market is both operationally and technically intense. Opendoor has a 6 year headstart and is recognized to have stellar talent

Zillow is an 'Internet 1.0' legacy company and is losing over 2% on each home they buy and sell, whereas Opendoor is an 'Internet 2.0' company making 2%.
Risks
With Opendoor, it's important to recognize they're not like the typical Silicon Valley businesses we see in years past. Here's the risks I'm monitoring:
Margins: Opendoor projects to breakeven in 2023, will they stay on track? With the Federal Reserve not planning to raise interest rates until then, there's never been a better time to do this type of capital intensive deal.

Customer behavior: Part of why sellers want an agent is it's the most expensive decision in their life. How much will 'instant buying' behavior catch on?

Team continuity: For Opendoor to become a well known business, it may take decades. The average length of homeownership is 13 years. Can they continue to attract and keep great talent? 
My take
With this, I ask, where do I stand? I'm in.
To summarize:
The opportunity is enormous

Opendoor can 10x by just doing what they already do

They look to beat out Zillow
From an investment point of view, I view this is a long term (10+ years), high risk, high reward play. It has a plausible opportunity to 10x. Worst case, I lose 1x. 
WTF
Over the summer we introduced the Witty Transparency Fund. As a refresher, it's a $100k account of my own money. The aim is to transparently understand companies, get a better view of the future, and have laughs along the way. To be accountable with you, I sold all my stock in June and the rest of my money is in accounts I don't manage. 
With this, I invested 5% of the account into $IPOB on Monday at $15 / share. How did I decide on 5%? I simply followed this Warren Buffett quote.
I could improve your ultimate financial welfare by giving you a ticket with only 20 slots in it so that you had 20 punches—representing all the investments that you got to make in a lifetime. And once you'd punched through the card, you couldn't make any more investments at all.
The IPOB stock will convert to Opendoor stock once the merger completes. That's expected by the end of the year.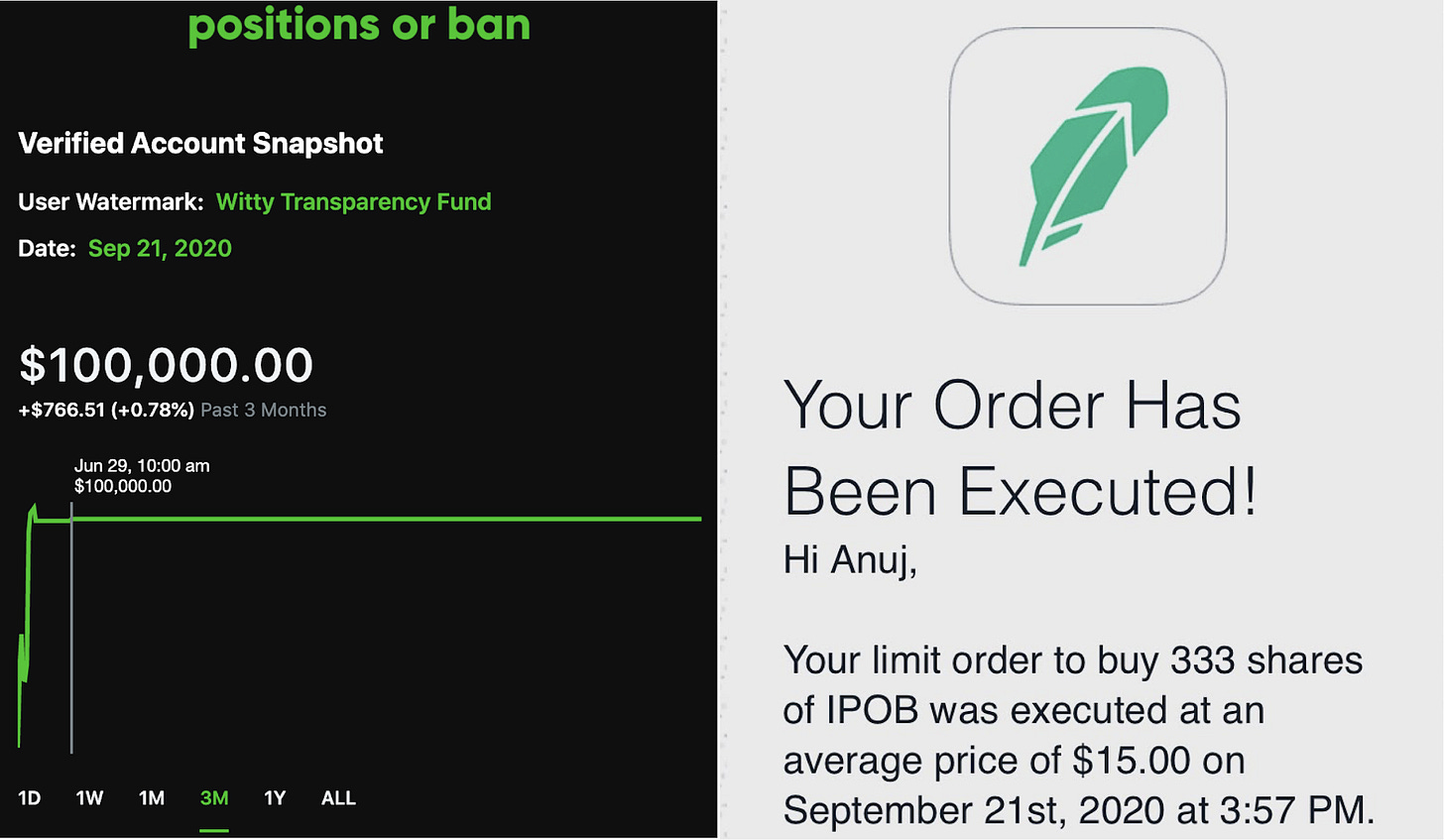 Your take
That said, this is my opinion. I'd love to hear from you:
What do you think? Do you believe Opendoor can 10x over 10 years? 

Do you have a position in IPOB? I'll make a group chat for stockholders, where we can discuss Opendoor as time goes on.
Feel free to reply to this post.
Have a great week,
---
Note: This content is for informational purposes only. It should not be relied upon as legal, business, investment, or tax advice. Your use of the information contained here is at your own risk. I am not a financial advisor.