Peloton's promising pivot 🎥
Covert changes
👋🏽 Welcome to Witty Wealth. We are a community that helps tech stock investors understand what's going on.
If you're enjoying this but you're not subscribed, sign up and join 1930 friends who have their wits 👇🏽
---
Today's post is by Rob Litterst, the founder of the Good Better Best newsletter, and member of the Witty community. I met Rob when he responded to our Bull / Bear case on Peloton. I love how he sniffs out which under the radar product announcements lead to big strategy changes.
Today, he brings us that insight on Peloton.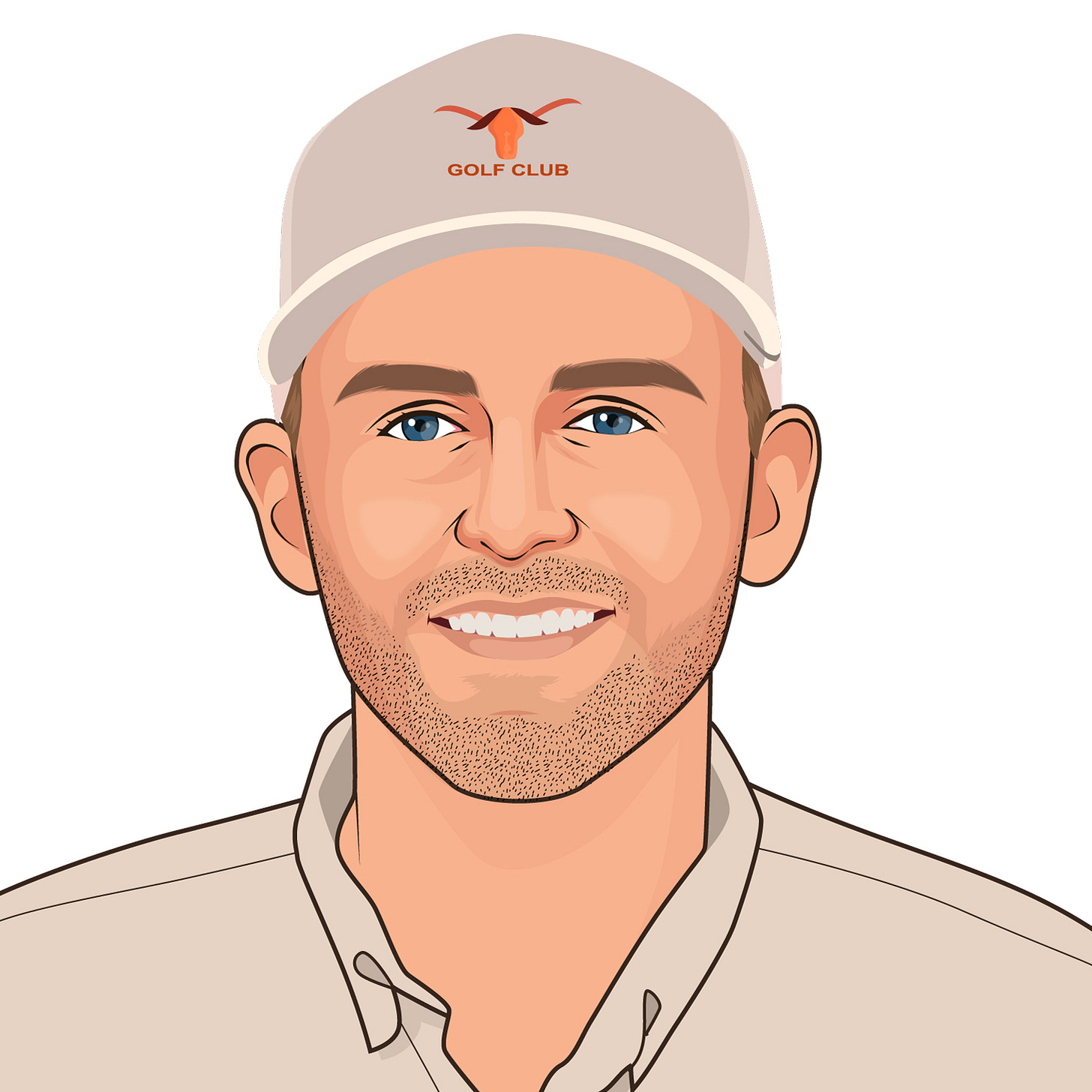 ---
Enchanted.
Whenever I saw a Peloton exercise bike, I fell for their aspirational aesthetic.
While their bougie hardware often got memed, it was clear who Peloton is targeting: the healthy and wealthy. Look no further than the famous Twitter thread goofing the placement of Peloton bikes in their ads:
I mean - who else could afford to spend $2,000+ on an exercise bike and $40 per month for the ongoing subscription?
As I dug into the company, I fell for their great bottom line too. The strong brand identity led to 96% of their hardware buying customers to still be active after the first year!
As Forbes writes, that's "unheard of in an industry where most people quit their gym memberships by February."
That said, when they IPO'd last September, I was concerned about their potential as a business. I thought these two factors - a high end target customer and premium price point - limited their growth opportunities once bike sales would tap out. I felt like this...
They had two ways to grow with their existing offering: upsell or cross-sell. I believed both options were bounded! For upselling, I didn't think it'd be a smart move to raise prices. Both the bike and subscription were already pricey. I knew the Peloton faithful were devoted, but how much more would they really be willing to pay?
For cross-selling - who would want to purchase the Peloton treadmill if you already had the bike?
At the time, Peloton also offered a digital app for various types of workouts (e.g. cycling, running, walking, strength). At ~$20 per month, it was more expensive than other at-home fitness apps (eg. Nike Training Club, Aaptiv) on the market. This meant the premium brand associated with their hardware filtered down to their mobile app as well.
The Pivot
On December 4th, 2019, my concerns began to go away. On that day, Peloton made three under the radar moves. They:
Released an app for the Apple watch that allowed users to track their heart rate, just like a Peloton class

Enabled users to access Peloton classes on Amazon Fire TV devices 

Lowered the price of their standalone app, Peloton Digital, from $19.49 per month to $12.99 per month
The big picture
These announcements signaled something big. Peloton is no longer a hardware company. They are a content company. 
To me, this is huge! 
With these changes,Peloton is democratizing access to their elite classes. Not only is the Peloton experience one you can get without the hardware, but it's also now affordable for way more people.
You can see this on their website. They now give their equipment and app equal billing, and center their messaging around classes rather than the exercise bike.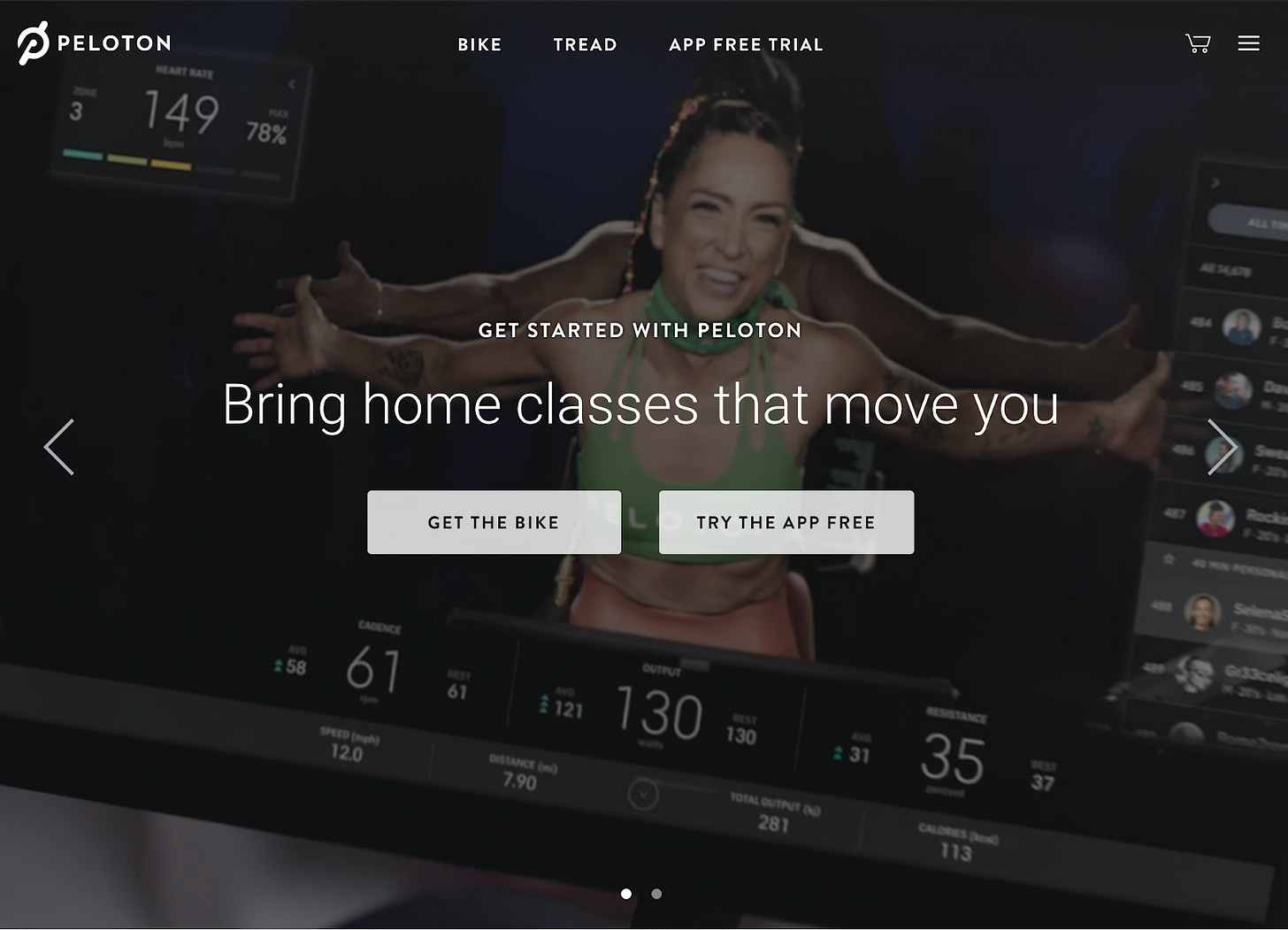 The changes
Before we touch on why I think these changes are big, let's look at them a little deeper.
The first two announcements help users get closer to a full Peloton membership experience than ever before. Offering compatibility with third-party devices allows users to access classes with whatever devices and equipment they have. Since releasing the Fire TV app, Peloton has added apps for Apple TV and Android TV as well.
In fact, after the announcement, some customers questioned the value of the membership altogether:
"If this was the current situation when I was deciding whether to order I would not have ordered the bicycle and bought a high-end spin bike using the app instead," 31-year-old bike owner Jessica Skapetis wrote in a Facebook message to Business Insider.
The third announcement, the price reduction, opens the floodgates to new subscribers that previously stayed away due to price sensitivity. While it's only a difference of ~$7 per month, this price change alters the competitive positioning of Peloton Digital. Before, their app was priced at a 25% premium to competitors like Nike Training Club (at the time) and Aaptiv. It fit squarely with the premium ethos Peloton personified. But at $13 per month, it's priced at a discount to competitors. 
The benefits
Now, why do these changes make me bullish on Peloton? 
Specifically, positioning as a content company instead of a product one:
Increases the size of their addressable market

Provides a virtuous engine to grow into that market

Brings new sales and experiences
Now, let's get into why I'm excited about these things.
Increased market size
As mentioned above, opening the floodgates to this customer will allow Peloton to nurture a far wider customer base, driving them further and further into their ecosystem.
Previously, Peloton's market was limited to the aspirational healthy and wealthy. Now, the bar to enter the Peloton ecosystem is far lower! The brand is focused on high quality fitness, regardless of equipment. All you have to do is sign up for a free trial of Peloton Digital, and if you enjoy it (which you probably will), you can sign up for $12.99 per month!
I personally fell into this new camp and had a great experience. My wife and I were hardcore Orangetheory members before quarantine struck. In the absence of classes, my wife tried Peloton Digital and loved the guided outdoor running sessions. When the trial was up, she promptly upgraded to a paid subscription.
We've talked about our new reality assuming things go back to normal, and she's already set on cutting down her Orangetheory membership and replacing some of the classes with Peloton's. Who knows how that will evolve over time? Maybe in the future, we'll even buy an exercise bike.
But whether or not we buy a bike is beside the point! The point is that we don't need to. With their new focus on classes, Peloton can bring a completely new type of customer into their ecosystem. Along with that new customer, Peloton can shift more of their revenue into things where they build it once, and can sell it infinitely (zero marginal costs)! Currently, their subscription revenue falls in this bucket, but their hardware clearly doesn't. Shifting their revenue equation further into subscriptions allows them to capture more pure profit as they expand their user base.
Down the road, when someone mentions Peloton, I expect many subscribers won't think of the bike, but something like this instead: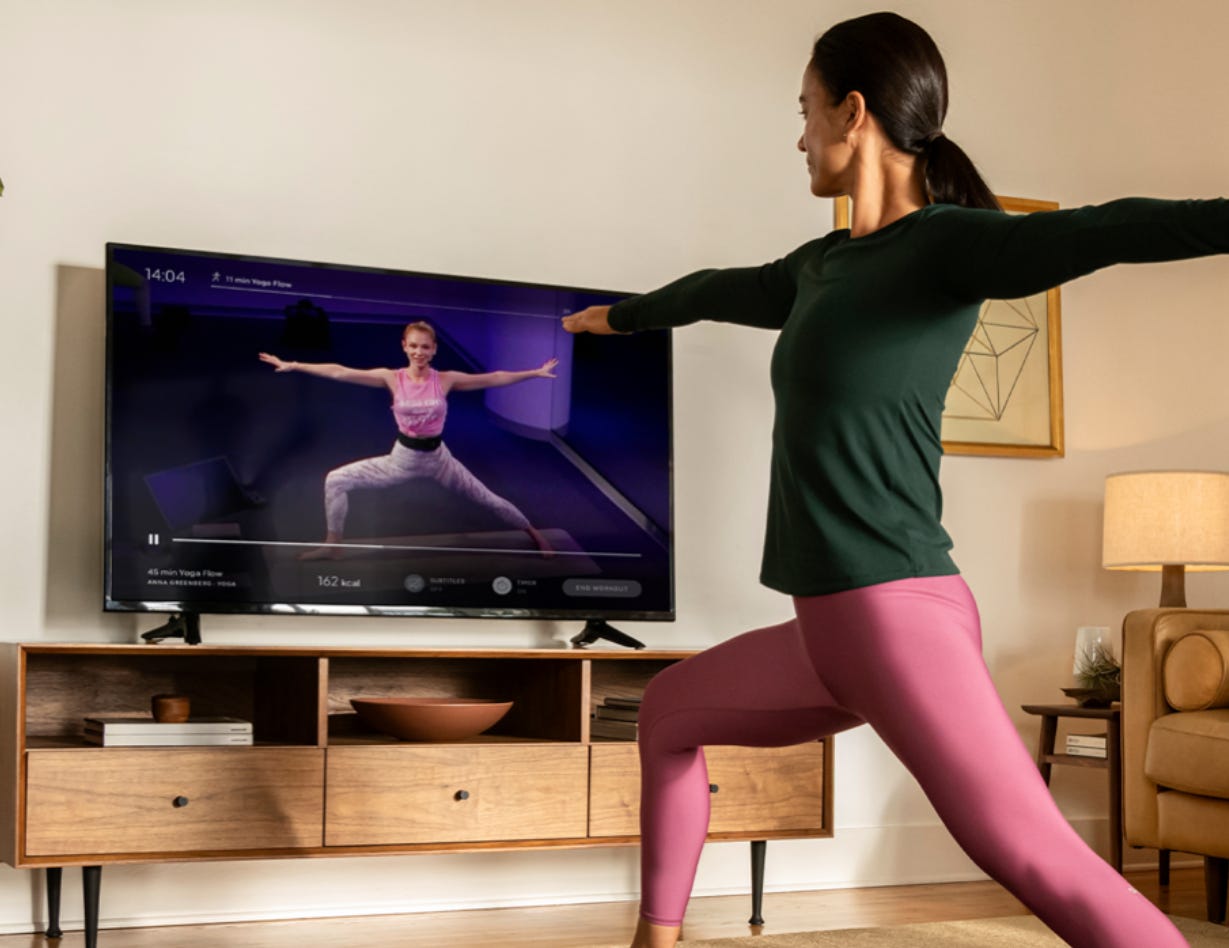 Virtuous growth engine
If you think about it, all home-fitness apps are essentially content companies at the end of the day. In the competition for new subscribers, content quality is the most important variable. Peloton has a huge edge here today by having the best classes. Fortunately for them, that kick starts a virtuous growth engine that locks in revenue and defends from competitors.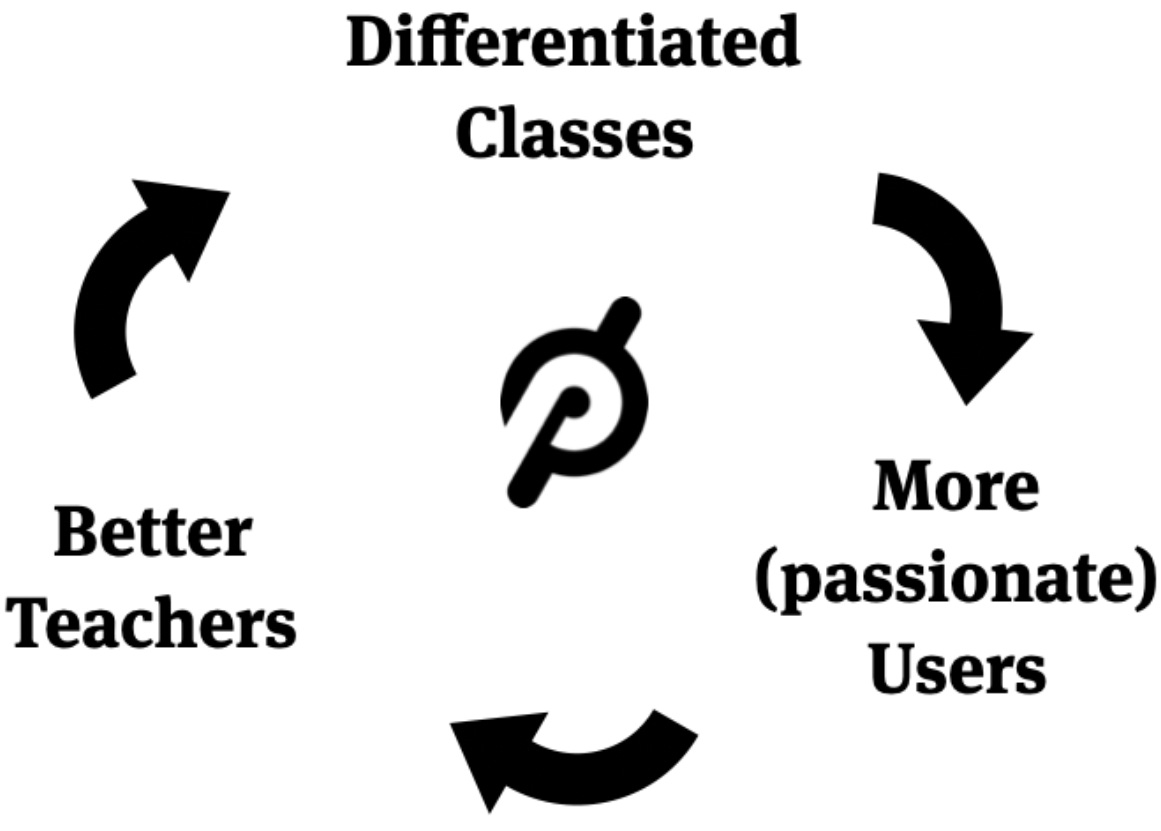 If you are a user, you want to go to the place with the best classes. Today that's already Peloton! Now if you are a great coach, you want to teach where the most users are. It'll maximize your reach, and likely your pay. These all work as a growth engine for Peloton, continually giving them the best content, most users, and best teachers. 
This concept is working so far! Peloton's classes create cultish customers, and their elite instructors have become celebrities in their own right. Just look at their social followings:
These aren't micro-influencers. Peloton's instructors are the real deal! Notice, Peloton doesn't have professional athlete sponsors - instructors are the face of Peloton.
Now, you may be thinking, "well, what's to keep these instructors from leaving and doing their own thing?" That's a fair question, but Peloton has a convincing three part answer. 
First, Peloton gives instructors access to the largest home-fitness customer base in the world. That customer base makes these social followings possible, which instructors use to build their influence beyond the Peloton brand. For instance, instructor Alex Toussaint is an advisor for Ladder, Lebron's Sports Nutrition Company, and sells his own merch line. Ally Love built her brand through Ted Talks and is building out her own community, Love Squad.
Second, Peloton treats their instructors like professional athletes. It's much harder to leave when you have the perfect setup! Just look at this quote from instructor Jess Sims in the Wall Street Journal:

Finally, as we've seen on other influencer platforms (e.g. Twitch), the original platform ends up being more powerful than the creator. For example, last year, Ninja, by far the most popular Twitch streamer, switched to Mixer, a different game streaming platform. The viewers he brought to Mixer weren't valuable for the rest of the platform, only to Ninja. Mixer shut down this year. 
New sales and experiences
I speculate there are downstream effects of opening the floodgates to new users as well. Here are some of the opportunities I believe these changes could generate for Peloton:
Increased merch sales 

Increased data collection

New experiences
All of these have bottom line benefits: lowering customer acquisition cost and increasing an already high dollar retention rate!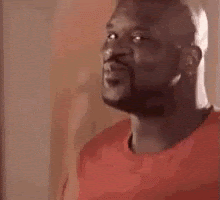 Here's some context on each possibility:
Increased merch sales
Many of these new subscribers will likely buy Peloton merchandise. The instructors are motivating and users associate them with the positive feelings of exercise. What's a good way to exemplify those feelings? Buy Peloton clothes! 
Peloton's merch business has grown 5x since 2017 and figures to be a bigger focus with Lululemon acquiring Mirror. Some of these customers will likely buy bikes, treads, and other hardware down the road as well. However, they don't have to buy these things for Peloton to reap benefits from this strategy.
Increased data collection
As the Peloton Digital subscriber-base grows, Peloton will collect data that will help inform future investments. 
This can help the above flywheel spin even faster! Peloton can determine which classes to develop further, which instructors to anchor programming around, and even assess whether it makes sense to develop new hardware based on the workout trends they're seeing.
New experiences
Finally, I expect Peloton to develop products between Peloton Digital and their equipment memberships. Simply put, there's a big gap between $13/mo app and paying over $2k for hardware and a $40/mo ongoing subscription. For example, I could see a premium app that delivers a "virtual personal trainer on demand" experience. 
Whatever it is, after driving users onto the Peloton Digital app, it'd be smart to develop features and products on top of the baseline app to drive expansionary revenue. 
Parting thoughts
Overall, Peloton's shift from hardware to content resolves both of my initial fears as an investor. It opens their addressable market considerably, and gives them a lever to pull for expansionary revenue.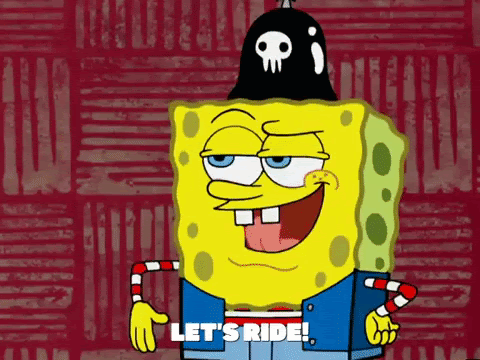 Beyond that, their value proposition changes from "connected fitness for the wealthy" to "premium at-home fitness for everyone." That's a way bigger opportunity, especially considering the new reality of COVID-19. 
While I may not have the bike in my basement, with their recent shift in strategy, I'm along for the ride with Peloton for the long haul. 
Thanks for reading,
---
Editor's Note: If you have any comments or questions, feel free to reply to this email! I'll forward it to Rob.
This content is for informational purposes only. Neither Rob nor Anuj are financial advisors. This post should not be relied upon as legal, business, investment, or tax advice. Your use of the information contained here is at your own risk.