Nikola's Big Bamboozle 🤡
The power of story
👋🏽 Welcome to Witty Wealth. We are a community that helps tech stock investors understand what's going on.
If you're enjoying this but you're not subscribed, sign up and join 2325 friends who have their wits 👇🏽
---
Jaw-dropping.
I'm not talking about last night's mess of a presidential debate. I'm talking about something else. Nikola Motors and how it's allegedly the next big fraud.
After picking up my jaw and diving in, I realized before I never understood the story beyond the headline. What does Nikola make? What are the allegations against them? Where does this leave us as investors?
I do now and I'm here to give you the narrative. Let's serve our curiosity.
---
TL;DR - Nikola is building a hydrogen refueling network. A short seller alleges fraud against the company's technology, traction, and team. The stock price has halved since. Long term investing comes down to what stories of the future you believe in.
---
Nikola context
Technology
Founded in 2014, Nikola builds two things: 1) a network of hydrogen refueling stations and 2) Semi-trucks powered by hydrogen + electricity.
Nikola targets businesses that own a fleet of semi-trucks and make a compelling pitch. They sell a complete solution: reliable transport at a lower cost than diesel.
Fuel network
Nikola's big idea is to build a network of hydrogen refueling stations around the country. They aim to have these stations available on Day 1. By having both the network and trucks available at the same time, they solve a chicken and egg problem. They can pitch fleet managers "when you buy our trucks, you can can refuel regardless of the route."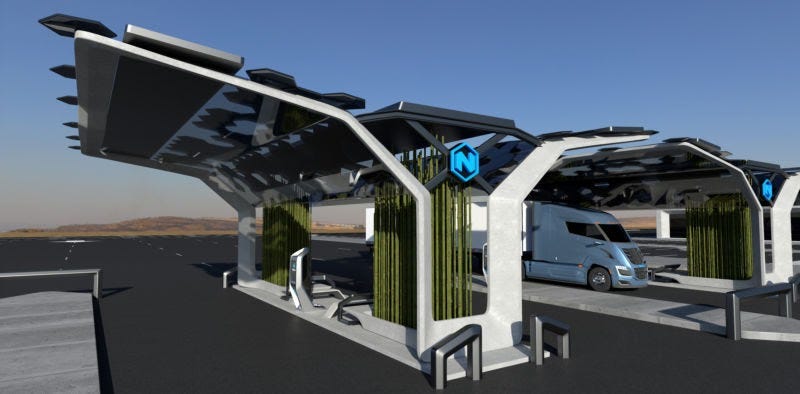 "Frankly, the station concept is as powerful or more than the truck concept." - Stephen Girsky, Nikola's Chairman
Now, hydrogen is much more expensive than diesel gas today. Motorists in California paid an average of ~$16.50 per kilogram last year.
Here's Nikola's game changing claim: they can produce hydrogen at $3 per kilogram. That's 80% cheaper than anyone else! At this price point, Hydrogen is a viable alternative to diesel. On top of that, a Nikola FCEV can get double the range of a battery only vehicle.
"We can now produce hydrogen for between $2 and $4 a kilogram. We're now cheaper than diesel to operate per-mile and we're almost at parity with a battery electric per-mile, and ultimately that's game over for diesel." - Trevor Milton, Nikola Co-Founder, June 2020
Nikola also declared they were producing 1,000 kilograms of hydrogen a day in December 2019.
Vehicles
Traditional electric vehicles draw power from a battery. Nikola's full cell electric vehicles (FCEVs) convert hydrogen into electricity through chemical reactions. They focus on Semi-trucks but also offer trucks and powersports vehicles.
Traction
Pre-orders
This pitch has led to big results. As of March 2020, Nikola said they had over 14,000 pre-order leases, totaling $10B in potential revenue. Their flagship customer, Anheuser-Busch, placed a purchase order in May 2018 for up to 800 leases of the hydrogen-powered truck versions. Goodbye Clydesdales.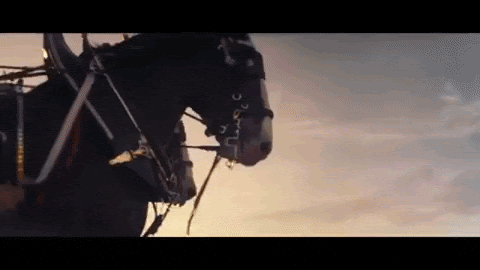 Partners
Nikola has managed to attract known automotive partners. Specifically: Bosch, General Motors (GM), and a SPAC from a previous GM board member. Here's how they play together:
"In our two-year quest to find a partner that was a proven technology leader and focused on making a global difference, Nikola was the clear winner," said Girsky, a former vice chairman of General Motors. "Nikola's vision of a zero-emission future and ability to execute were key drivers in our decision."
Team
Nikola was founded and led by Trevor Milton. He has a marketing heavy bravado that in some ways formed a cult around Nikola. He constantly pitches a vision and is known to call out disbelievers.
Trevor's previous fuel company, dHybrid Systems, was sold to midwestern industrial conglomerate Worthington Industries in 2014 for ~$20M.
Hindenburg moment
With technology, traction, and team in place, Nikola seemed set for a long term journey. Unfortunately, on September 10th, this hydrogen hype hit a bump, and is starting to go up in flames.
Hindenburg Research, an investment firm with an apt fitting name, finds fraud and bets against these companies. They released a bombshell ~16k word report, alleging fraud that permeates Nikola's very core. Publications Bloomberg and Financial Times have corroborated.
While accusations range all over, here are the most important ones:
Technology
In short, Nikola's core tech is allegedly all fluff. From the Hindenburg report:
A spokesman for Volvo spin-off Powercell AB, a hydrogen fuel cell technology company that formerly partnered with Nikola, called Nikola's battery and hydrogen fuel cell claims "hot air".
Here's some bizarre details within.
Semi-trucks
Nikola's original flagship Semi-truck is the 'Nikola One.' At the big December 2016 reveal, Milton declared,
"This truck is by far the most state of the art truck ever built in history…this thing fully functions and works…this is a real truck—this is not a pusher."
What's a pusher? At a separate event, Milton defined it as:
"I mean this is a fully functioning vehicle; it's not just a pusher. That's what they call [it] in the automotive world; they just push and it doesn't move."
Sadly, the truck is allegedly a pusher and did not work under its own power.
In this video below, titled, "Behold, the Nikola One in motion," the Semi-truck moves. But it didn't move from its own power. Rather, gravity did the work. The Semi-truck was first towed to the top of a 2 mile long, straight, slightly downhill road. It then rolled down in neutral. You can check the road out here on Google Maps.
Nikola wrote a rebuttal that confirms this if you read between the lines:
Nikola never stated its truck was driving under its own propulsion in the video, although the truck was designed to do just that (as described in previous point). The truck was showcased and filmed by a third party for a commercial. Nikola described this third-party video on the Company's social media as "In Motion." It was never described as "under its own propulsion" or "powertrain driven."
Not a good look.
Hydrogen
The second part of the solution, hydrogen production and network, is disputed too. Before, Nikola stated to be producing 1000 kg of hydrogen a day at a cheap price.
In the rebuttal, there are no statements of production, rather they simply have installed equipment,
"Nikola has already installed a 1000 kg hydrogen storage and dispensing demo station at its headquarters and ordered over $30 million of electrolyzers to support the initial hydrogen station rollout."
It makes me wonder, if they aren't producing hydrogen, how did they make their cost saving claims?
Battery tech
Finally, in October 2019, Nikola announced it would revolutionize the battery industry. A company they were buying was apparently a game changer.
Funny enough - Nikola got conned themselves. After investing $2.2 million into the company, Nikola learned not only was the technology 'vaporware,' the President of the battery company was a fraudster. He had been indicted, and later pled guilty, to allegations that he conned NASA by using his expense account to procure prostitutes. A simple google search would've done the trick.

Traction
While Nikola claims 14k pre-orders for their trucks, Hindenburg alleges 'the order book is filled with fluff.' One third of the orders come from someone with no money to pay for them.
Team
Like any business, results are the decisions of the people who operate it. Sadly, Hindenburg states those involved have an ill-fitting past too.
Trevor Milton, Founder
Trevor has an alleged history of two things. First is misrepresentation and not delivering on business agreements. His prior company, dHybrid, converted natural gas into diesel. Milton was sued by his customer for delivering only on half of the agreement, with inadequate quality, and spending $2M for personal use.
Second, he has two recent allegations of sexual assault against him.
Travis Milton, Head of Hydrogen Production and Infrastructure
Hydrogen production and infrastructure is critical to the Nikola pitch. One would expect a world-renowned scientist to be leading the proclaimed hydrogen breakthroughs.
For the past 5 years, this effort has been led by Trevor's younger brother, Travis. Travis's background beforehand was in construction, namely pouring concrete driveways and building barns. While one client notes he did a quality job, it's unclear how this type of work set him up to lower the cost of hydrogen production by 80%.
This same pattern fits other key roles: Nikola's Head of Infrastructure Development and Chief Engineer have unclear technical expertise to be now leading major operations.
Where does this leave us?
Wheels in motion
With these allegations, things have begun to implode:
Trevor Milton resigned from the Company and has gone off the grid

The Department of Justice and the Securities and Exchange Commission are now investigating whether Nikola misled investors

The stock price has been cut in half (yet they are still valued at ~$7B!)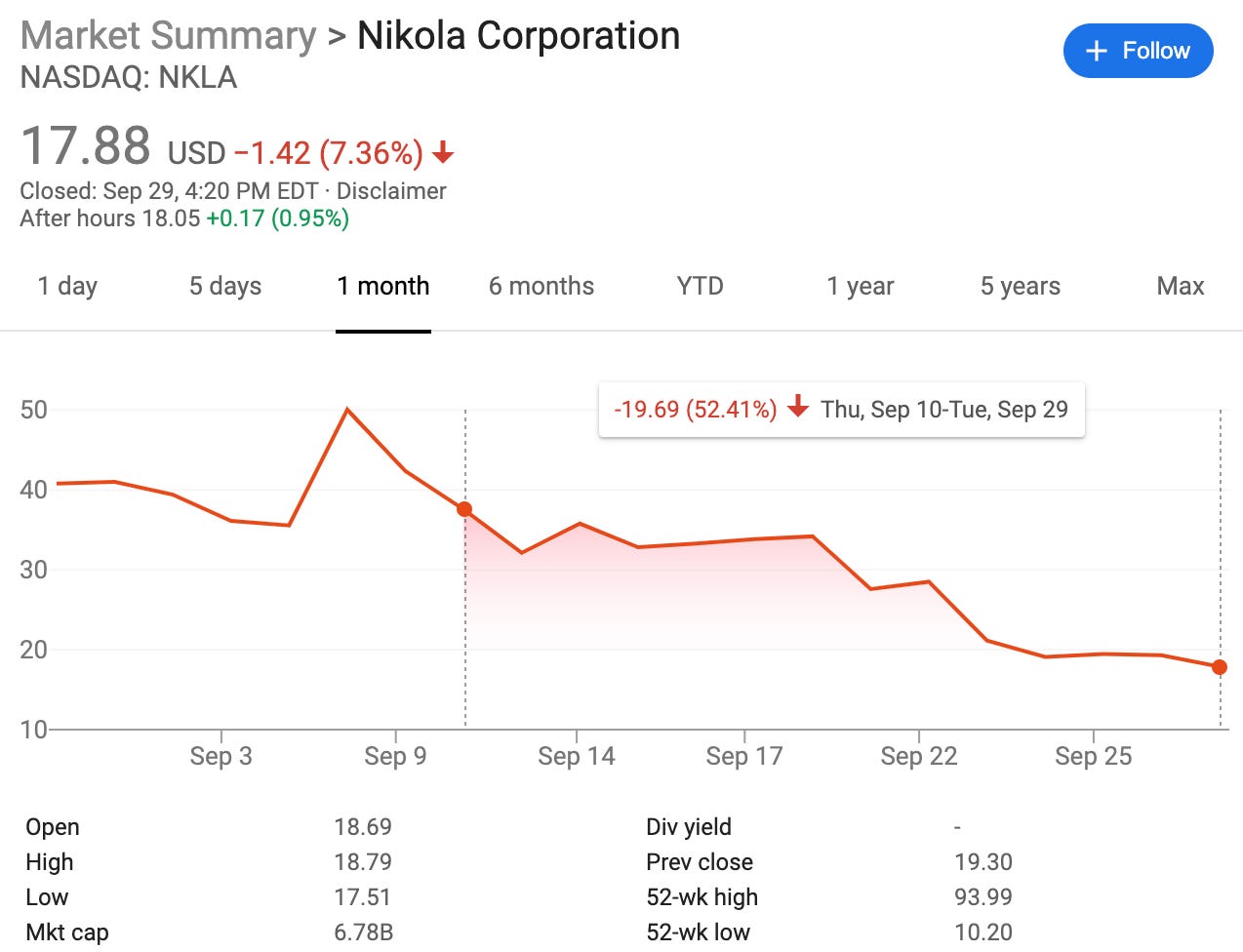 Hindenburg has got what they want so far. I assume they are rolling over laughing about this parody video:
SPAC storyline
In this situation, Hindenburg paints a compelling picture. Yet at the same time, you have to assume Girsky, GM, and Bosch are not idiots. Their previous experience lends credibility and they did diligence before taking Nikola public. According to FreightWaves, an industry publication,
Steve Girsky examined more than 100 companies…before choosing electric and fuel cell truck maker Nikola Motors as the filling for his publicly traded shell company…

After learning about Nikola in November 2019, Girsky…recruited hydrogen and fuel cell experts…

"We had an army of these people and then we used an extended network to learn as much as we could," he said. "We dug into the financials, but more importantly, we needed to dig into the technology…At the end of the day, we thought the issues that needed to be resolved were engineering issues, not technical issues."
What story do you believe?
This situation hammered home a part of long term investing for me: at the end of the day, it comes down to what story of the future you believe in. Just like why Elon's beloved following has Tesla sky high and why I'm on the Opendoor train.
While I don't have a position in Nikola, I am keeping it that way. When in doubt, get the hell out.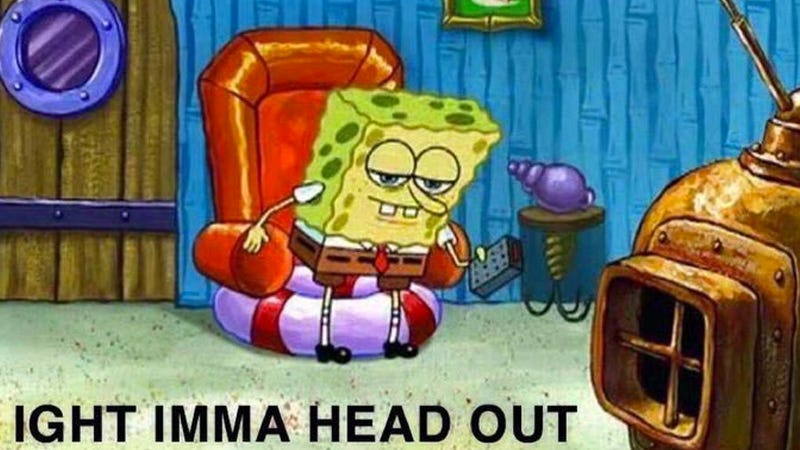 That said, this is my opinion. I'd love to hear from you. Where do you stand on Nikola? Why? Feel free to reply to this post.
---
Note: This content is for informational purposes only. It should not be relied upon as legal, business, investment, or tax advice. Your use of the information contained here is at your own risk. Witty and its authors are not financial advisors.